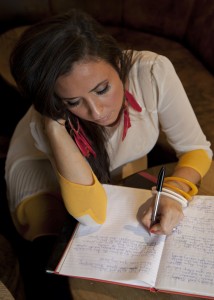 I was first really turned on to music as a child whilst my head was pushed up against the speakers in my mum's Saab listening to the likes of Stevie Wonder and the Eurythmics.  Mum used to drive around West London collecting rent for landlords and it was during this time that I began writing lyrics, a rent book for my canvas!  To this day, all my words are written down in an accounts-style notepad… some thing's just stick!
My musical inspirations and the artists I'd listen to at home growing up were Stevie Wonder, Donny Hathaway, Otis Reading, Dusty Springfield, Julie London, Mica Paris, Lauren Hill and The Beach Boys.  And then my introduction to Hip-Hop, my favourite being, A Tribe Called Quest, De La Soul, and the Wu Tang Clan.
As a child I often used music to channel my attention and communication – attending a local acting school where I didn't get on at all well with the acting, BUT LOVED THE SINGING!
It was after seeing D'Angelo perform at Brixton Academy some years ago that I realised my calling and decided this is something I simply had to do.  With a young son in-tow this was no easy task, but with drive and a huge passion for what I wanted to accomplish, I'd drop him off at nursery and in between the washing and cleaning, I would be found spending any free time I had writing songs.
I eventually I joined a local band which enabled me to not only fine-tune my writing but also receive valuable input and feedback from fellow-musicians, giving more substance to my lyrics.  And in 2010 I released an EP, 'These Are All The Things', recorded at The Way Studios in East London and produced by Luke Buttery (whose recent projects include Mark Ronson, and Noel Gallagher).   I've spent the last two years co-writing, collaborating and recording demos and now feel the time is right for others to experience what I've spent so much time nurturing.  It may have taken me some time to hone these songs, but I now feel confident that they can be heard and cannot wait to get out there and share my music with an appreciative audience.
For further information please feel free to contact me here.